Hello, everyone   The following is the course schedule from May 10, 2021 to May 16, 2021                            Ai Ling, thank you!    1
.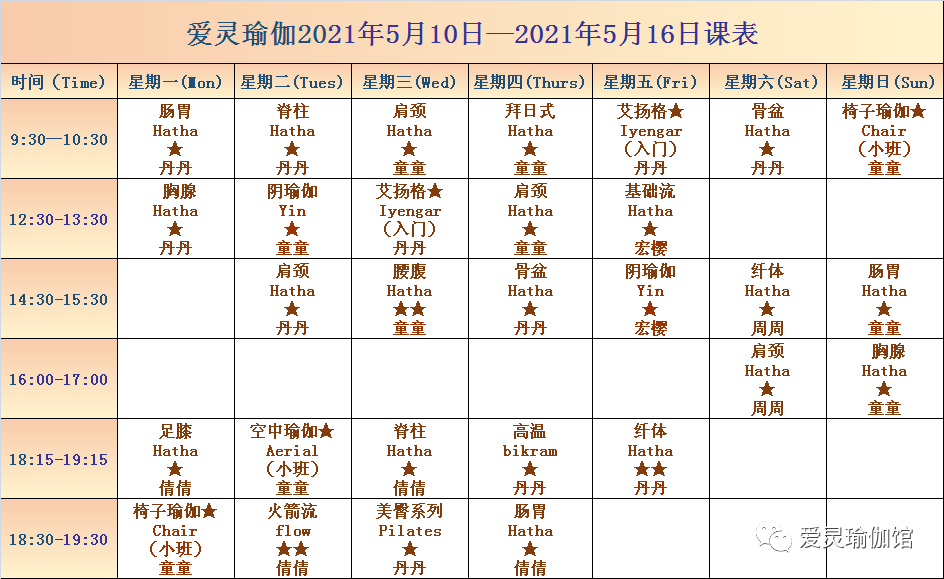 Old members who bring new friends to experience can get a weekly experience (three times) free of charge;             2
.
The number of times for old members to apply for annual membership is increased by 8 times;    3
.
Members can enjoy a 5.8% discount when they buy a set of Yifan yoga clothes in the store on their birthday;   4
.
Members can apply for a 20% discount when they renew more than two times in our library
.
   Lesson tips front desk appointment telephone: 023-52011012 { represents the intensity of the course
.
And represent moderate and balanced intensity, suitable for beginners and old members to practice; It is suitable for the old members who have a foundation to practice, and the intensity is relatively high
.
Please choose a suitable course or consult the teacher according to your own situation
.
All courses must be reserved at 8 o'clock on the same day! Latecomers are not allowed to enter the classroom
.
Please arrange the time reasonably and arrive at the library 10 minutes in advance( The class appointments are less than five people do not start classes, the specific time should be based on the front desk notification.): Costumes: professional yoga practitioners should bring yoga clothes with water cups, no makeup or perfume, and no jewelry
.
Diet: try to avoid eating a lot 1-2 hours before and after class! Try to light diet, try to practice on an empty stomach
.
Warm reminder: in order to ensure discipline and order in class and create a good practice environment, please make an appointment in advance!.
.