Click "the road of Ashtanga Yoga" above to subscribe! It's the biggest gimmick of marketing and business promotion to make you younger
.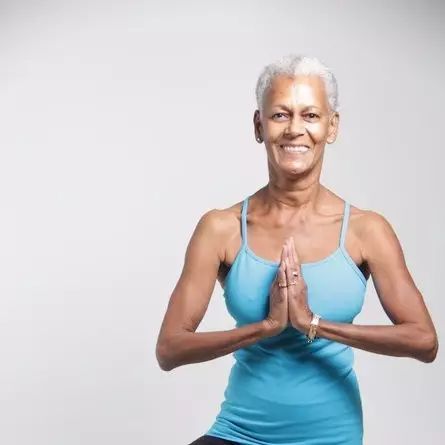 It's not difficult to confirm that when you look at the covers of various magazines on the newsstand
.
The market is full of all kinds of food, use, paste, paint, cut, pull, cut, injection, pad, P-map..
.
The selling point is to make you look younger than you should be, so that you can take out your wallet
.
so what? There seems to be nothing but to dig out your wallet, and then..
.
Oh, yes, it does, and then to continue to dig out your wallet..
.
This Chin..
.
Er, you don't want to go to Korea again? ..
.
if marketing products and gimmicks can make people young forever, it seems that everyone should not have wrinkles on their faces; but time does not stop, and they will not pass by your face without leaving a trace
.
"If you practice yoga, you will always be young
.
Shopping may not make you young, but yoga can make you young
.
Master of Ashtanga Yoga SriK.PattabhiJois The two masters, Krishnamacharya, are teaching until they are almost 100 years old
.
As long as you mingle in the Yoga circle, you can see that there are many grandparents active in the Yoga classroom, such as mark Darby, who is familiar to domestic students
.
Of course, they have wrinkles on their faces, many people have bags under their eyes, and most of them are not delicate
.
But when their bodies are moving and they are talking, you can clearly feel their youth and vitality – when your parents are worried and seeing that expert doctor, yogi, who is older than your parents, stands on his head and shines through his eyes Liang..
.
Isn't this the best way to bring salt when you are young? Yoga really makes people young, yoga makes people old young..
.
Yoga makes people young is really young; real meaningful youth: yoga makes people young from the inside
.
When your body organs, joints, nervous system, spine are young, you look young
.
Yoga redefines youth video – just be yourself
.
Youth means skin is delicate and smooth, no wrinkles, and a face without expression
.
Is it the same for 20 years? Or young is the morning, jump out of bed, with a few excited, a few expectations to look forward to today's all happening? Young is you and your daughter walking on the street, people will say that the two sisters really like? Or can you go to Switzerland with your daughter for skiing last week? Young is you don't want to grow up, don't want to face the reality of life? Or do you face life with the curiosity of a child and the attitude of a naughty child? I think you should understand here: what does it mean to be young? Young – is the way you face the world, young is how you move your body, young is in the old age, still curious about the world, still full of enthusiasm for life, young is no matter how old you can go out of your comfort zone to do something, some young people think it is "abnormal" things..
.
Yoga is fresh in these aspects, your "young" – if you have seen D Avid Swenson, John Scott, mark Darby's Ashtanga Yoga practice video, you will understand what I mean
.
You can see that people's real body age is not the age flowing through the body, but a healthy and energetic body, not full of collagen, but full of energy, an open heart that many young people don't have
.
If you want to know how old you are, don't look at your date of birth, or even how many gray hairs you have, or the wrinkles on your face
.
What you should see is how much your spine can bend – yoga does not look at your birthday, but how young you are
.
If you are less than 30 years old, but your spine is very stiff, you can't even reach your knees when you bend down
.
At this time, you can only say that your body is nearly 70 years old
.
But you start to practice yoga at this age
.
After a period of time, your spine and your body open, which is equivalent to reversing your age and returning to 20
.
At least your body can feel what you felt when you were 20
.
There are more movable parts of our spine than any part of our body
.
The spine connects the pelvis, the legs, the connector, the arms
.
When the spine becomes as tight as a stick, the stiffness is transmitted to the rest of the body through these connecting points
.
But if you can bend over and easily put on your shoes and socks, easily turn around to get a book on the shelf next to you, or look back at the stars..
.
Then, no matter what year you are born, you are still young
.
And no matter how old you are, you can't be too old to practice yoga
.
The day you start yoga, the clock stops
.
In the following video, Tao porchan Lynch, the world's oldest yoga teacher, When I passed away last year, I was 101 years old
.
When I was 100 years old, I was still practicing yoga and teaching yoga, and inspired thousands of Yoga lovers
.
Betty Eiler, who started practicing at about 50 years old, said: at 52 years old, I completed my first complete hanouman (upright horse); at 55 years old, I could stand upside down in the middle of the room and jump back to the upper wheel
.
Pan Lianhua has no pressure on me
.
Beryl bender birch, one of the founders of American power yoga, said: I'm nearly 60 now, but my asana is still improving, and there is still room for improvement
.
I don't know when I'm going to step back, maybe when I'm going to die
.
Yoga is not a magic or miracle
.
You still get wrinkles, you still get bald or bald
.
But yoga keeps one's body in the healthiest state
.
Whether you are young or old doesn't depend on the years you live, but on what you have done in those years
.
After all, it's your life, your body, your choice..
.
(end of the article) anatomy train author personally teaches online course shock pre-sale buy course by picture recognition QR code column: click below"
.