Click on the blue word "lazy lazy Yoga notes" above to pay attention to the official account and harvest different yoga feelings
.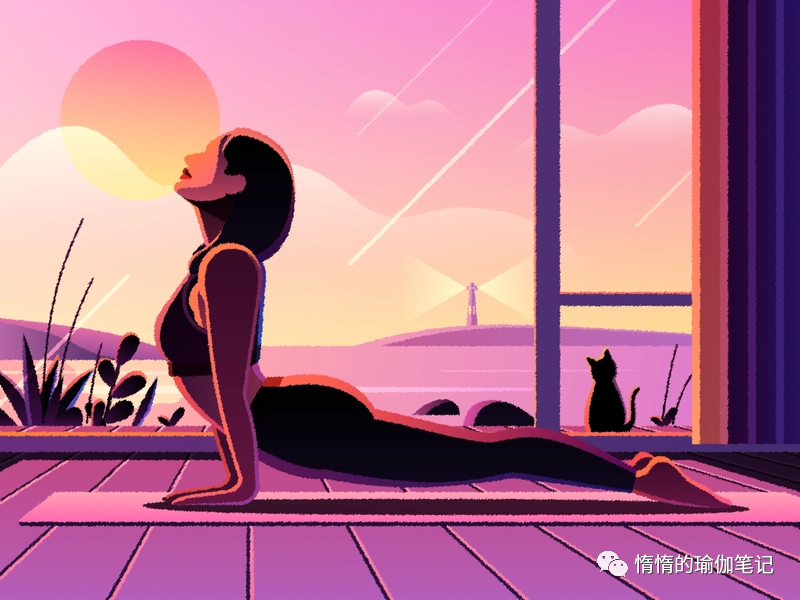 Work is a matter that we love and hate
.
Love is, work can make money, can live their yearning life
.
Hate is, there are too many helplessness at work
.
Every weekend is so beautiful and short, how a inattentive, but also to work
.
I've always been a good eater, basically isolated from insomnia
.
But in those years of struggling in the workplace, every Sunday night, I would toss and turn, unable to sleep, this should be a kind of anxiety
.
At that time, I can only tell myself, go to sleep quickly, if you don't sleep again, the heavy work will crush you, and you can't stand it
.
Sure enough, every Monday, I will always be all kinds of listless, and then in the evening will be heartless to sleep
.
Now, I'm exploring a career change
.
Besides writing Yoga articles, I will also take my friends to practice simple yoga
.
There is a set of joint activities, the effect is not bad, can be completed in bed, for 1 hour, including sitting and standing breathing, joint activities from foot to head and great relaxation
.
The most amazing thing is that in the final relaxation stage, I seem to be very good at controlling my voice, making it low and quiet, leading everyone to look inside and relax
.
Every time I lie in bed and guide everyone, I worry that I will sleep
.
When I sit up again, I feel a little sleepy
.
There was not much feedback from everyone
.
They all felt relaxed and a little sleepy
.
After all, according to the law of the body, at night, the body should have entered a state of calm and relaxation, ready to go to sleep
.
My voice is more like a catalyst to help you get into that state quickly
.
In the past, I always felt that it was very energy consuming to teach others
.
After several attempts, I had different feelings
.
For example, joint activities will not consume much physical strength
.
I will pay more attention to leading you to pay attention to breathing, body and present
.
In the whole process, I also tried my best
.
After a class, I will be very calm, very relaxed, there is a touch of joy in my heart
.
At the same time, you can have a good sleep at night
.
I plan to launch live video class of joint activity in wechat group from 20:30 to 21:30 on Sunday evening
.
For the crowd: people who are interested in yoga or meditation, people who want to exercise their muscles and bones, people who want to improve their sleep quality, people who want to do emotional management, people who are hard to concentrate: practice yoga in the right way, consciously strengthen and stretch muscles, and feel comfortable after practice
.
Practice yoga in the right way, learn to live in peace with your body, and learn to relax your body and mind
.
Maybe a good sleep is not as difficult as you think
.
Practice yoga in the right way, feel the connection between breathing and physical activity, and feel the present
.
I'm willing to be a leader, but I still need to find a professional teacher online and offline for yoga practice, so that the road of yoga can be longer and safer
.
Form: I will communicate personal information with each partner in advance, including physical condition, cognition of yoga and the purpose of practice
.
The video class will be one-to-one or one to many, and I will guide you offline when I have the opportunity
.
During the practice, welcome to turn on the camera, so that I can see your actions and correct the mistakes in time
.
Of course, I can also choose to turn off the camera
.
The course is free and a long-term project
.
It's my honor to bring more friends into yoga circle
.
This is the way I can think of to help the people around me in the workplace
.
If you are interested, please contact me
.
It's only an hour
.
Maybe you'll get a surprise
.
Some people say it's hard to change habits
.
I think that sometimes difficulties come from our own imagination
.
As long as we have the courage to try, change will happen naturally
.
Anyway, I've been here
.
You know how to find me! Always welcome to try, give yourself more opportunities, life will be more surprises
.
Click "watching" (lower right corner of the page) to transfer the energy of yoga to more people
.
Welcome to pay attention, lazy Yoga notes long press the figure below to identify the QR code to add.
.