Click "Ashtanga Yoga road" above to subscribe! If you subscribe to those official account of rotten yoga, you will often see similar brush screen "66 year old woman practicing yoga, face still like a girl"; He began to practice yoga at the age of 63 and became a yoga God in his seventies..
.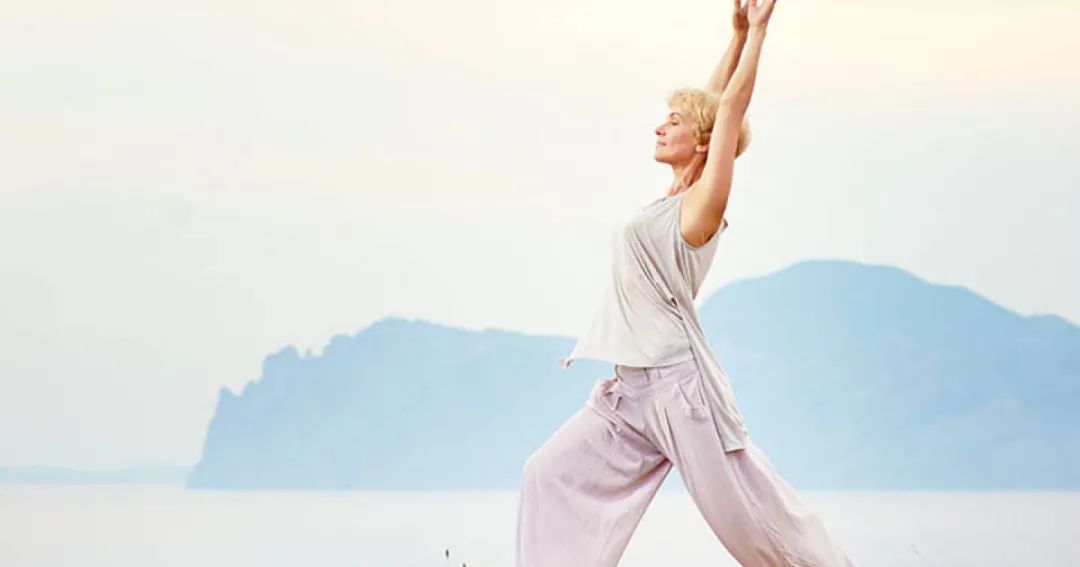 "Such articles have nothing to do with yoga, but inherit the gossip media entertainment to death style, and be careful with the machine for the purpose of" entertainment "to deceive the public
.
In fact, if you expect yoga to make people older and look similar to young people, it is not only impractical, but also not necessary at all – what's the matter with aging? Why do you want to be like a goblin? I think I'm much more handsome when I'm old than when I was young with long hair and a matchstick (hee hee)
.
As the saying goes, it mainly depends on my temperament
.
It seems to be a bit off the topic
.
In fact, what I want to say today is that long-term adherence to yoga can really make a big difference when a person is old, but this big difference is mainly and important – long-term adherence to yoga may not make a person look old, but it will slow down the process of your body feeling "old"; The important factor of not feeling old inside is that through yoga, one can maintain the "flexibility" of the body to a great extent
.
With flexibility, a person can maintain the quality of life when he is old
.
The following video is a good example
.
A centenarian in a small place in India is still practicing yoga in his 100s
.
He not only has a good body, but also takes his whole family as yoga teachers and teaches many students there; This is the real use of yoga
.
It is not to let an elderly person falsely do what his granddaughter does, and make a net popularity by putting beautiful photos and videos; But to be a healthy old man and share yoga with the people around him
.
So for the older yogi,    Focus on using yoga practice as a tool to maintain your healthy body and optimistic and positive mood, and use yoga practice to create flexibility in your old age
.
Strictly speaking, physical agility and flexibility are not the same thing
.
Physical agility refers to a person's ability to maintain balance and control in a continuous series of body movements with the increase of age
.
For example, the daily activities of getting on and off..
.
Especially when the car and door are small, or squatting on the floor and getting up from the floor, or squatting down and standing up in the toilet
.
Another problem related to dexterity is speed
.
Speed is a key factor in maintaining physical coordination, especially when you walk on a crowded street or when there are objects, such as a dog, suddenly rush towards you
.
A lot of writing about yoga makes people young or older practice yoga, but I see that the articles on this topic are all about face, clothing and temperament, but I can't stand up in the bathroom
.
What's the use of having a face like a goblin? In my opinion, the first thing to be elegant is to ensure that the body loses less defecation
.
With the increase of age, dexterity is most related to the quality of life
.
Otherwise, no one dares to help you when you hit the table at home, the door frame when you go out, and wrestle in the street
.
How can you be elegant? Moreover, the stretching or flexibility is not necessarily the same as dexterity, that is, your old lady can split a word horse, but it can only be said that the old lady's static flexibility is OK; However, whether the neural coordination in daily life and exercise is very harmonious is another problem
.
In other words, dexterity is not just stretching; Physical dexterity and coordination require a combination of many related physical and brain skills
.
First of all, flexibility is that the body can move relatively easily – which requires some basic qualities of the three bodies: strength, flexibility and balance
.
The second is the ability to stand upright, especially when moving from one body position to the next
.
Keeping the body upright in a static state, the neural reflex mechanism can also help the body keep the body upright in a dynamic state
.
   To maintain the flexibility of the body, we also need to maintain the body so that the following functions do not degenerate too much: the ability of external perception and noumenon to feel body coordination and accurate movement comes from two sensory forces of the body, which enable us to perceive our position in space
.
  External perception: it is our feeling of the interaction between the body and the outside of the body
.
Proprioception: we can perceive the relative positions of different parts of our body, such as the position and relationship of the arm relative to the shoulder and the position and relationship of the thigh relative to the crotch
.
These two functions can help us maintain the appropriate sense of space and balance of our body, so that we can transition from one body position to another without losing balance in the process
.
Sensory acuity whether you're walking on the sidewalk, climbing a mountain, or doing a solar salute in a yoga classroom, you need eyes, ears and touch to provide you with information about your position in space and nearby obstacles
.
Concentration losing concentration is easy to lose balance, so the brain's ability to focus is very important when one body position transitions to another
.
This may be no exception to the hundreds and thousands of Sun Salutations
.
  Speed and strength is an important guarantee of speed
.
Only with strength can we quickly start muscle fibers and make fast and coordinated movements
.
Another is the coordination of the nervous system
.
For example, if you stretch your right foot, you will react for a long time, and it is useless to activate your muscles
.
  Yoga is the best tool to improve and maintain the flexibility of the body
.
Many people will play a lot of sports when they are young, such as playing ball
.
These sports will help people maintain the flexibility of the body; This kind of maintenance is very important and can help people avoid accidents that can kill people after growing old, such as falling
.
Unfortunately, most of these things are only suitable for young people
.
But fortunately, there is yoga
.
A well-designed yoga practice can cultivate strength, flexibility and balance, help maintain and improve these key abilities to keep the body flexible, but it is more than that
.
Yoga can directly affect the coordination and speed of the body flexible
.
Dynamic asanas and Asana flow enter and exit one asana, from one asana to another
.
With breathing, asanas are connected in series to form asana flow
.
Such yoga practice is to exercise the ability of speed and accurate movement
.
Such exercises can help the overall coordination performance of the human body, and practice the ability to quickly activate muscle fibers to assist the body's movement speed
.
A variety of different pose choices and combinations can create diversity so that all parts of the body can be effectively exercised
.
Static asana in static asana, entering and exiting asanas is a good practice for body coordination
.
The fine adjustment in the sequence is to polish the perception of the relative relationship between space and body mentioned above, and also use some muscles that the body will not use at ordinary times
.
Yoga asana's rich asana library provides us with many tools that we can use to activate almost all muscles in the body – and can be activated in different ways, rather than repeating many basic exercises like other fitness projects
.
From this point of view, yoga can indeed throw aunt sports such as square dance for several blocks in promoting physical flexibility
.
In order to maintain the fast twitching ability of muscles and keep the body moving without losing speed, we can gain more strength in static postures.
.