1.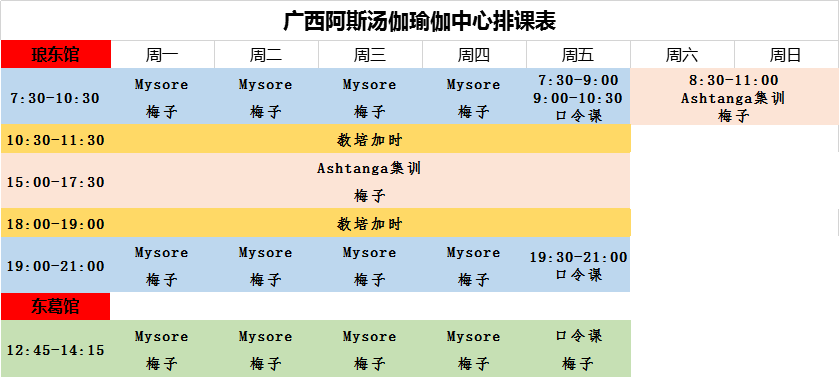 Only set up orthodox yoga courses and encourage regular practice to achieve physical and mental health and balance.
Yoga is not only the healthy practice of the body, but also the promotion of consciousness and spirituality.
2.
Maiso class is a one-to-one targeted guidance to cultivate self practice habits.
Any basic students can participate.
They can be late and leave early, enter the class quietly, and Practice for at least 1 hour every day.
3.
The intensive training course includes breathing practice and all postures of the first level sequence.
Sometimes it is strengthened.
It is an improvement course.
You can also participate in the zero foundation.
If you only have two intensive training on weekends, you can also find your potential.
4.
Yoga Etiquette: ① please make an appointment two hours in advance.
If the course changes temporarily, please forgive me for not making further notice.
② Please do not bring your mobile phone into the class to avoid affecting other members ③ please inform the teacher in advance if you feel unwell.
④ Avoid stepping on your classmates' cushions.
5.
Please respect Yoga etiquette and let us create a more peaceful and harmonious Yoga space for you.
thank! 6.
Appointment telephone: Meizi teacher 18878830180 langdongdian, room 708, building 5, Haoran landscape, No.
178, Minzu Avenue, Nanning.
Subway: exit B2 of Fengling station of line 1.
Bus: 405, unit 3, xinyuange, No.
4, Geyuan Road, feicuiyuan East Gedian, Nanning (200m from Getang Lane behind Minmetals building).
Subway: exit D / b of machun village, line 1, transfer to Xiaohuang bus, Bus: the First Affiliated Hospital of traditional Chinese medicine Tel: 18878830180 plum teacher business hours: 7:30-21:00.